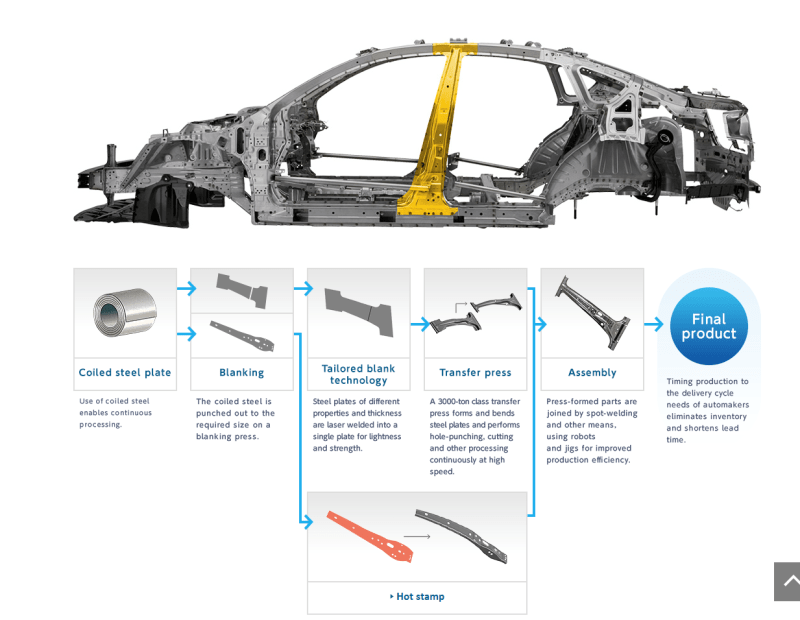 "Tilsatec have been supplying us with cut resistant gloves and sleeves for many years now. We have a number of different production areas across the plant and as a result we have quite varying requirements from our PPE in each department."
For 'goods in' where workers are handling raw sheet steel the 37-5630 ISO 13997 cut level 5 leather palm glove is used for its durability and robustness. Where operatives may be working in or near welding stations the 204 and 33-5631 cut 5 FR backed leather gloves offer protection from weld spark and small molten metal droplets.
Protection is also extended to the arm with the 84-3420 FR cut level 3 sleeve for safe handling of larger components and sheet metal. For workers operating large presses and loading and unloading body kits in and out of jigs and moulds the 50-5121 glove is used. Delivering level E cut resistance with a reinforced thumb crotch in a seamless, breathable liner it provides high level, durable protection but with the flexibility and dexterity of a fitted palm coated glove.
In conjunction with the hand and arm solutions Tilsatec also supply the 001 CRS cut resistant sweatshirt. Providing all over level 5 cut protection to ISO 13997, the sweatshirt is seamless knitted ensuring there are no weak points or seams where the wearer may be more vulnerable to cut hazards. With a cool-touch, lightweight feel and under arm vents it can also be worn all year round without causing discomfort. Each operative is issued their own garment and they are able to take it home and launder it under domestic conditions if they choose making maintenance and serviceability hassle free.
Tilsatec are specialists in supplying the Automotive industry and its suppliers with durable, high performance PPE which is wearable and comfortable.
View the range of products used in a metal stamping environment here. If you are looking to rationalise or review your cut resistant PPE, you can request a free on-site trial trialrequest@tilsatec.com and we'll be happy to help.