The number of incidences which were recorded as lacerations, cuts or open wounds between 2014 and 2017 is estimated at around 84,000, with on average six working days per employee being lost as a result of a workplace cut or laceration to the hand.
Other figures in the report also make uncomfortable reading and suggest there is still more to be done to encourage a safer working culture. For example, the report found that more than two-thirds (70%) of workers who suffered injuries to their hands were not wearing gloves when the incident occurred. The remaining hand injuries were due to staff wearing either inappropriate or impaired gloves for the task they were carrying out.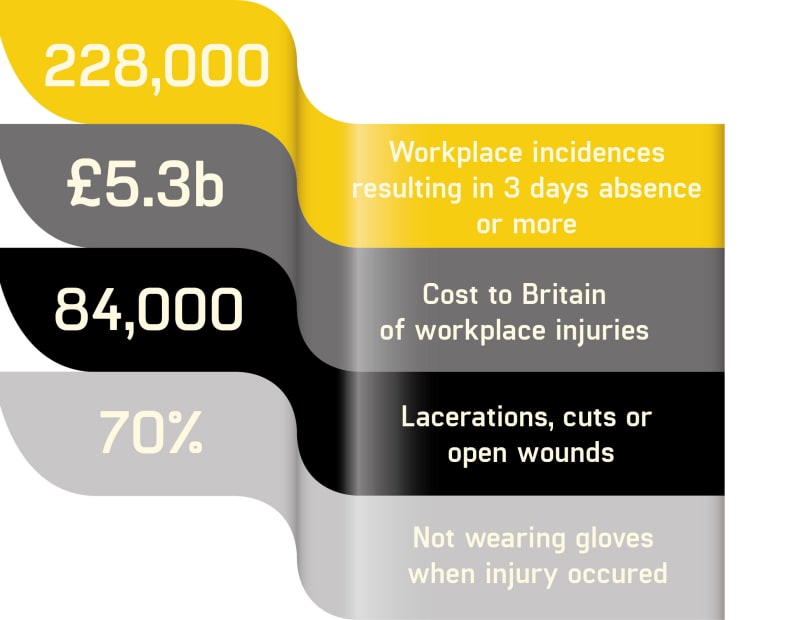 This highlights the importance of providing the correct equipment for the individual job and the particular hazard being faced – whether this is sharp objects, extreme temperatures or harmful substances for example. It also serves as a reminder that employers should work closely with PPE suppliers to ensure that gloves are fit for purpose and the correct size is issued.
This will not only help to reduce the number of injuries but also the cost of them in terms of staff absence, medical treatment and any possible compensation claims.
Safety gloves are essentially the last line of defense in keeping hands safe so whilst saving money on PPE might seem appealing in the short term, the costs and effects of an accident will be far greater in the long run. Investing in good quality hand and arm protection increases worker compliance and productivity and reduces absences as a result of injuries. There is often also a cost in use benefit if higher performance materials are used, as the lifespan of the glove will typically be higher than with cheaper gloves.
If you would like a comprehensive assessment of your PPE cost in use, contact Tilsatec today.
You can also view the Tilsatec range of cut resistant hand protection to find the PPE solutions right for you.
Tilsatec have over 135 years of experience in manufacturing high performance materials for hand and arm protection. We supply our products worldwide and work with end users to develop cost effective solutions right for your workers and environment.