Aramid
Aramid fibre has very high thermal stability and so can be used in a number of environments requiring heat protection up to 500 deg c. When reinforced with stainless steel it is able to deliver high (level 5/E cut resistance). Inherent benefits:
– No melting point
– High heat stability
– Low heat conductivity
– High cut resistance
– Low flammability
– Low UV resistance
– Launders well
The Tilsatec aramid cut resistant knit range is designed to provide a combination of thermal protection and cut resistance: 37-5620 37-4523 and 37-4528. Ideal for use in automotive, metal stamping and press-shop environments.
Kevlar® is the branded aramid based fibre from DuPont™. As a licensee of Kevlar®, we developed the first 18 gauge cut level E glove to the market the 58-5420 using Kevlar® to demonstrate high cut protection can still be achieved in the finest of knits.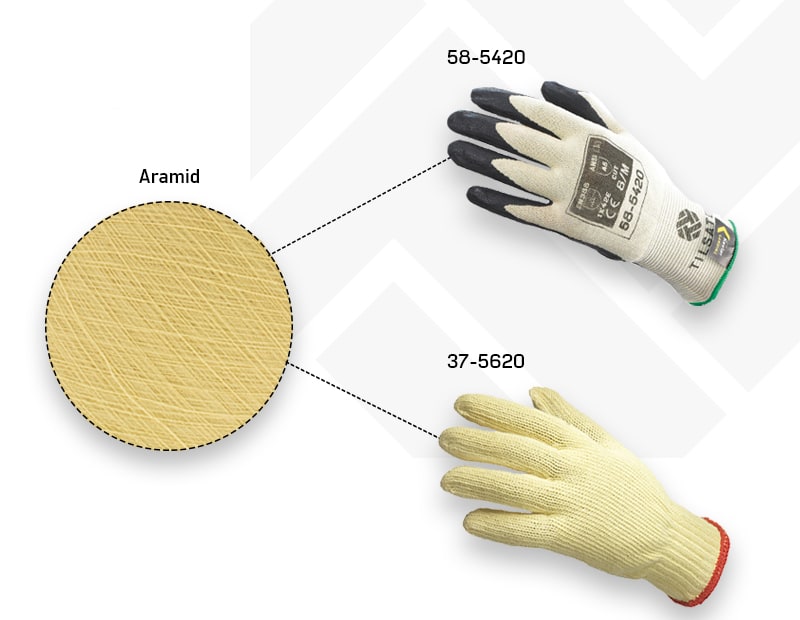 HPPE (High Performance Polyethylene)
HPPE fibre has ultra-high strength versus weight, so it's flexible and lightweight but highly durable. Gloves made entirely from HPPE can typically achieve level 3/B cut resistance to EN388:2016 but when reinforced with steel or another fibre this can be increased to level 5/E cut resistance and above.
– High energy absorption
– High flexibility
– High longevity
– High abrasion resistance
– Resistant to chemicals, moisture, and UV radiation
Our latest families of high cut gloves utilise HPPE to leverage all of these benefits including the cut level E 50 range 50-5121 and 55 family 55-5120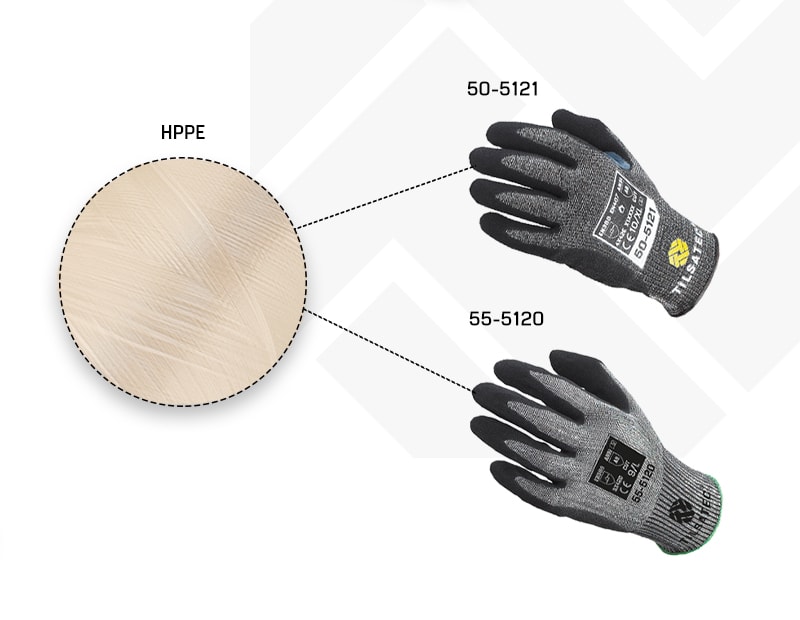 Glass Fibre
A well-known, widely available yarn for cut resistant gloves. It has a smooth, silky surface which feels cool to the wearer providing high comfort and user acceptance. Glass fibre can be used as the sole component to deliver cut resistance typically achieving level 3/B, but also to reinforce other fibres.
– High tensile strength
– Cut resistance
– Fire resistance
– Water-resistance
– Non-conductive
The 030PU is ideal for dry assembly environments, white goods manufacturing, glass handling and automotive.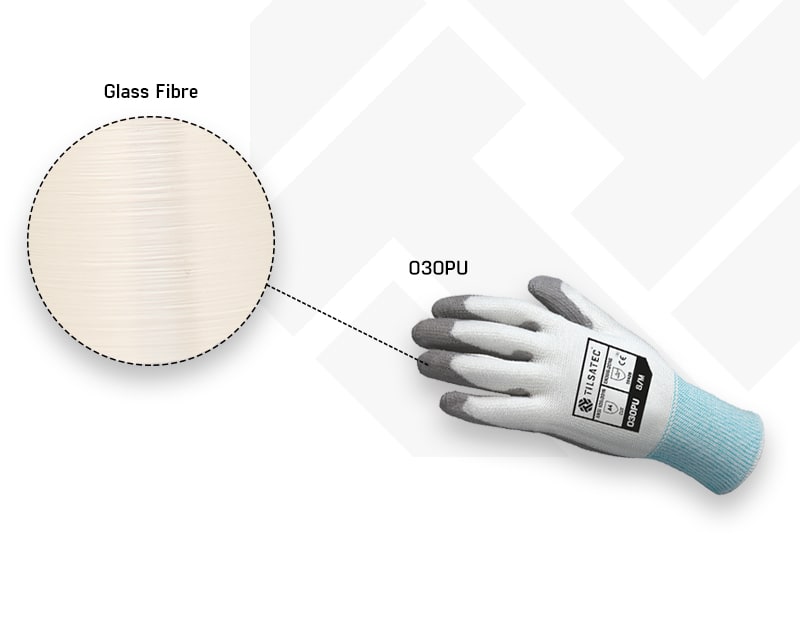 Stainless Steel
Stainless steel is again typically used to deliver cut resistance in combination with other fibres such as aramid or HPPE. Steel reinforced cut resistance has been, and continues to be a preferred method for Tilsatec as we are able to process stainless steel to achieve the same lightness in weight and comfort levels of HPPE or glass fibre, but with the strength and protection of steel.
- Inherent cut resistance
- Launders well and won't diminish after washing
- Performance remains through the lifetime of the glove
- Won't fibrillate or degrade causing contamination
Many gloves and sleeves in the Tilsatec range are steel reinforced ranging from the ultra-lightweight 18 gauge cut level E 58-4120 to the heavy-duty 37-5622 cut level F 'loop-out' glove with thumb reinforcement.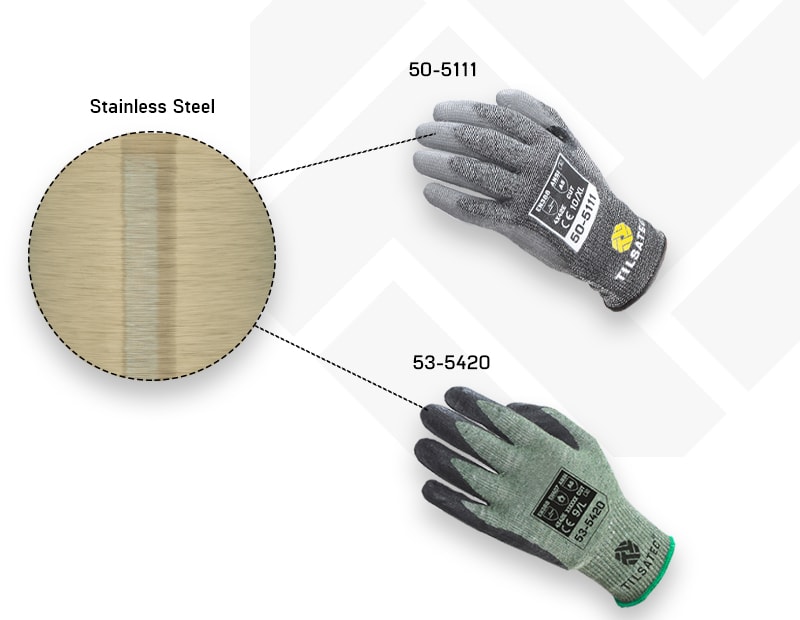 Basalt
Extremely fine, continuous filaments extracted entirely from crushed basalt rock. Basalt fibre has better strength characteristics and offers higher resistance to acid, alkaline and salt than glass fibre.
– Naturally fire-resistant
– High cut resistance and tensile strength
– Good abrasion resistance
Composite Engineered Yarns

Composite yarns are those which are made by combining 2 or more fibres/materials. For example, aramid fibre or HPPE may be used to deliver strength & durability and stainless steel might be used to deliver high-level cut resistance that won't diminish over time. When knitted together in a seamless glove the mechanical protection delivered is far greater than when used alone.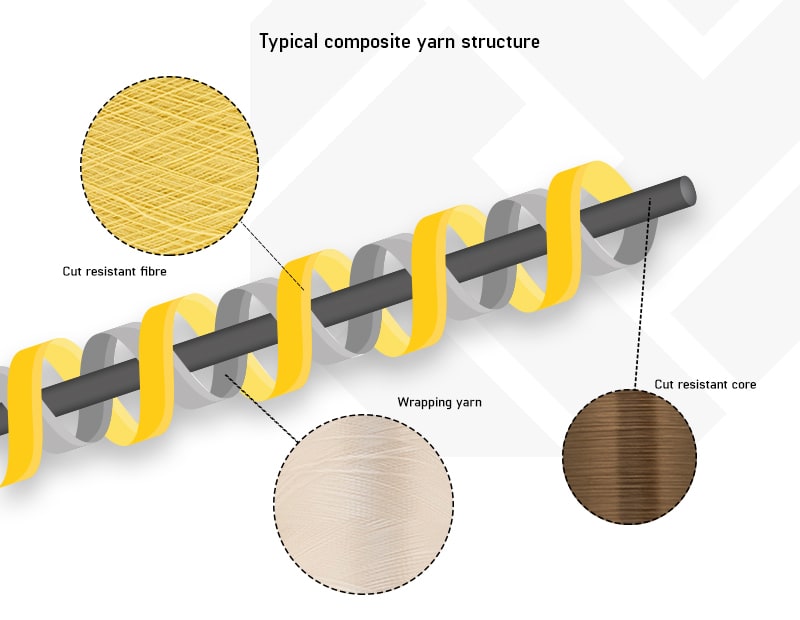 There are of course several other factors to take into consideration when specifying hand protection such as liquid repellency, impact protection, breathability, and grip.
If you need high cut protection ie cut level 5/D-F and think your glove program may be falling short of the performance you need, now may be a good time to conduct a review.
A reputable glove manufacturer should be able to provide you with test data to EN388:2016, as the standard now uses the ISO13997 TDM cut test to provide a more accurate view of a product's cut performance.
As cut resistant specialists all our range is certified to the new PPE Regulation (EU)2016/425 and we have a wide range of hand & arm protection solutions which deliver level E and level F cut resistance to EN388:2016.
Contact trialrequest@tilsatec.com to arrange a free trial today.