Tilsatec's laboratory is independently accredited by UKAS. The United Kingdom Accreditation Service (UKAS) is the sole accreditation body recognized by Government to assess, against internationally recognized standards, organisations that provide testing services. Laboratory accreditation uses the standard ISO 17025 to assess a laboratory's ability to produce precise, accurate tests and data including:
• Technical competence of staff
• Validity and appropriateness of test methods
• Suitability and maintenance of test equipment
• Testing Environment
• Sampling, handling and transportation of test items
• Quality assurance of test data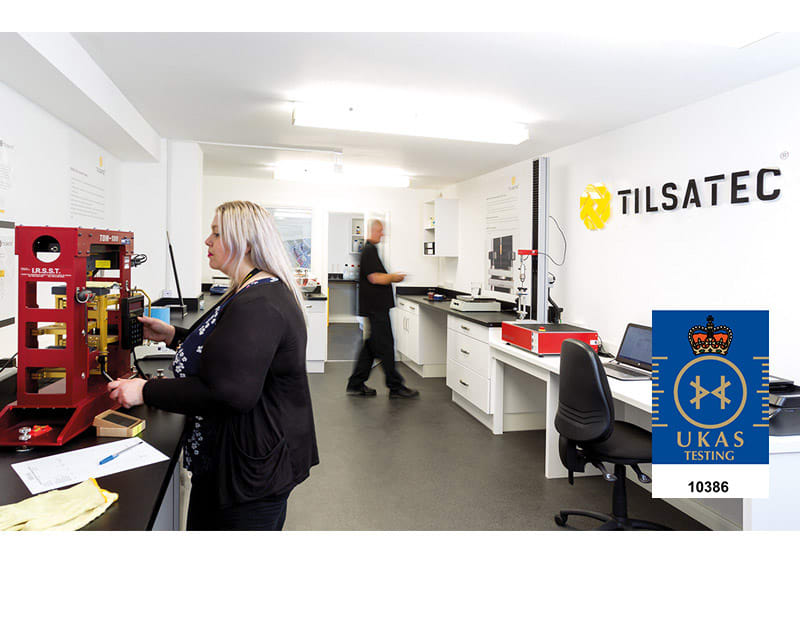 Laboratory Expertise
• Compliance monitoring and compilation of CE certificate applications
• Performance and quality control testing of raw materials, yarns, and finished products
• Supporting of new product development
• Ongoing due diligence product testing
• Bespoke in house testing to suit customer's specific hazards/requirements
• Benchmark testing to ensure test results are in line with industry standards
These are the values that we strive to provide to customers in our products, people, manufacturing, and testing. If we believe a current EN standard doesn't go far enough in providing customers with the performance data they need, we will develop unique in-house test methods which go beyond the standard to give more realistic data, representative of real-life working conditions and hazards.
The Tilsatec laboratory participates in global proficiency testing along with third-party accredited laboratories to confirm that the results achieved are of the highest quality and standards.
Technical support and product guidance
Alongside our experienced sales representatives, the technical team can provide additional advice and support on the suitability of a product and make recommendations on factors such as cut resistance, grip performance, abrasion, liquid repellency, thermal properties, and breathability.
Where a customer may have concerns as to the suitability of a product for their particular application, the laboratory team can assist in evaluating the nature of the tasks being performed and provide a detailed analysis.
To find out more about the PPE Testing Centre or if you have a requirement for third-party independent testing contact lab@tilsatec.com or tel: 01924 375742.